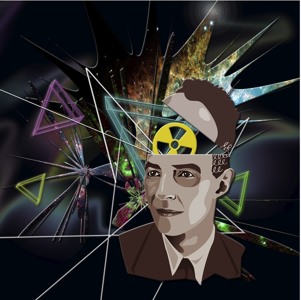 A haunting blend of poetic, metaphor-laden lyrics, and slow-burning (sometimes flashing) guitar licks mark the titular track of
The Monks of Mellonwah
's second EP.
Neurogenesis
is surprisingly delicate, careful and easy-going despite the driving drumming and powerful vocals. At times, The Monks, a four-piece Alternative Rock band based in Sydney, feel like a coffee shop outfit, relying on strong musicianship and carefully crafted rock songs, all built around an epic riff or two, rather than the pure bombast of a stadium band. Vocalist Vikram Kaushik has a syrupy, syncopated delivery that recalls Red Hot Chili Peppers and Incubus, and Joe de la Hoyde (backing vocals/guitar), John de la Hoyde (bass), and Josh Baissari (drums) provide a well-formed sonic universe around Kaushik's words.
There are problems with comparisons, too. On "Neurogenesis," the title track, and "Neverending Spirit," the Monks feel a little too much like Incubus and the Chili Peppers. These songs, while proficient and enjoyable, feel slightly recycled. For those of us, like myself, who was of remembering age in the 1990's, they feel unoriginal. Now, unoriginal doesn't mean bad, clearly, and these songs are both good, but they don't grab the ear the way a couple of later tracks do. "Kyoto" a bordering-on-post-punk piece, is unrelenting in the best ways. It builds and ebbs and flows with precision. It also has a sense of vulnerability. It's a song about doubt, and each lingering guitar note feels like a yelp caught in the wind. "You Shine," is my personal favorite. It's plodding nature, and multiple digressions into atmospheric guitar and echo just plain feel good. What's clear is that The Monks of Mellonwah have some of the lyrical spirit of Fleet Foxes, and the skill to back it up.
Whether or not the Monks go on to continue the California-Beach-Alt Rock that they emulate in their first two tracks, or expand into a broader, more eclectic mix of theatrics and post-punk, remains to be seen. With
Neurogenesis
, which you can check out below via their SoundCloud, they've established exceptional writing, arrangement and musicianship. The band is working on their debut album right now, and are touring the U.S. this month, December (tour dates below), and then again in February/March of 2013. Give them your ears. They greatly deserve it.
Neurogenesis by Monks of Mellonwah
Nov 15 @ LA Music Awards, Avalon Theatre, Los Angeles, CA
Nov 16 @ Witzend, Venice Beach, CA
Nov 17 - 24 - Recording tracks for new album
Nov 25 @ Whiskey a Go Go, Los Angeles, CA
Nov 29 @ Garage Inc, San Bernardino, CA
Nov 30 @ TRIP, Santa Monica, CA
Dec 01 @ Jose's Underground, Monterey, CA
Dec 02 @ Brick & Mortar, San Francisco, CA
Dec 03 @ Old Ironsides, Sacramento, CA
Dec 06 @ LIT Lounge, New York, NY
Dec 07 @ The Room, Brookfield, CT
Dec 08 @ BSP Lounge, Kingston, NY
Dec 09 @ TBA
Dec 10 @ Mercury Lounge, New York, NY
Dec 11 @ TBA